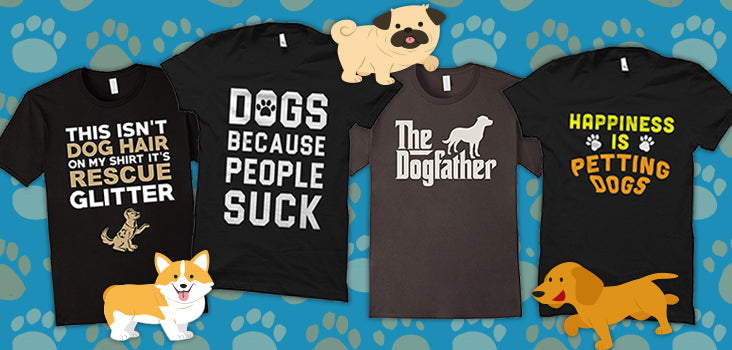 We hope you love the products we recommend! Just so you know, OtziShirts may collect a share of sales from the links on this page.
A cat owner and a dog owner walk into a bar with their pets.
The cat owner says to the dog owner, "How do you like Meow?"
For all that we're pitted against one another, cat and dog owners are similar. We all love our pets, it just so happens that fashion tends to make more accessories and clothing for cat-lovers.
Cats are cute, and I would never knock my cat onesie but had I the choice of a dog onesie, there would have been no competition!
This is why I am happy to announce that we've pulled together 10 amazing dog t-shirts. Because why should cat owners get all the fun??
---
1. Happiness is Dog T-Shirts
Source:  OtziShirts.com
Petting them is good too, though, and I bet it would be hard to find anybody that disagreed with it. Dogs just have ways of making us happy. Their happiness is contagious and if we had tails, they'd make ours wag with happiness too!
Get the Happiness Is Petting Dogs Shirt on OtziShirts.com
2. Pawfect Preferences
Source:  OtziShirts.com
Human beings can be negative, but dogs? Even when they're hungry or sleepy, they're happy. If you treat them right. Treat a dog right and they'll make your life the happiest life ever. All you need to do for them is love them back.
Get the I Prefer Hanging Out With My Dogs Shirt on OtziShirts.com
3. People Ain't No Good
Source:  OtziShirts.com
Is there any better feeling than waking up and getting home, in dog t-shirts, and being greeted by a waggy tail and lots of kisses? The answer is no because dogs are pawsome. With a dog by your side, you don't really need humans.
Get the Dogs Because People Suck Shirt on OtziShirts.com
4. Dogs 'R' Us
Source:  Amazon.com
This dog t-shirt was made as a must-have for every dog-lover on the planet. If you're used to wearing white shirts after having petted your black lab or black dresses when you've been with your poodle, you know these feels. And it's OK.
Get the This Isn't Dog Hair Shirt on Amazon.com
5. The Simple Things
Source: Amazon.com
When you have the ingredients to true happiness, it's not like you even need anything more. The only thing that beats what it says on this dog t-shirt is to combine the things. Having a nap with your dog after eating tacos? Ah, c'est la vie.
Get the I Enjoy Naps Tacos and My Dog Shirt on Amazon.com
6. How Much Do You Like Your Dog?

Source: Amazon.com
This isn't that good of a statement if you think about it. If a person makes you love your dog even more and you already love your dog more than anything, how much love is there left? This dog t-shirt is awesome and a fact.
Get the The More People I Meet The More I Like My Dog Shirt on Amazon.com
7. Always Trust a Targaryen
Source: Amazon.com
I know the Starks are the "dog people", but when you're in a world void of dragons, what other choice is there? But then even compared to dragons, dogs win. It's the nature of the dog t-shirts.
Get the Mother of Dogs Shirt on Amazon.com
8. Anti-Dogpressants
Source: Amazon.com
Medication would work wonders for everyone if it was dog-shaped. Wars would end, peace would surround us, and we would never again be sad. It's a nice idea, even if it'll never be a reality. With dog t-shirts like this one though, it can be.
Get the I Happy Pills Shirt on Amazon.com
9. Namastay at Home Always
Source: Amazon.com
Dog owners, this is an amazing mantra to repeat to yourself over and over. If you can't sleep, just say this over and over to yourself and your dog. All of the difficulties in your life will disappear for that one night of cuddles.
Get the Namast'ay At Home With My Dog Shirt on Amazon.com
10.

The Dogfather has a Bone to Pick With You
Source: Amazon.com
Poop bags seem to generate from your pockets and the first thing you do when you wake up is grab the leash. We have an offer you can't refuse in this hybrid movie and dog t-shirt that's bound to bring the yaps.
Get the The Dogfather Shirt on Amazon.com
---
The only way being a dog person or a dog owner can improve is if you have lots of dog t-shirts that make you as happy as your four-legged-friend.
When people tell you clothing can be materialistic, t-shirts don't count. Especially dog t-shirts. If anything, they'll be wishing they had your style.
All that's missing is a tee that your dog could wear too.
...but who said we're finished here?