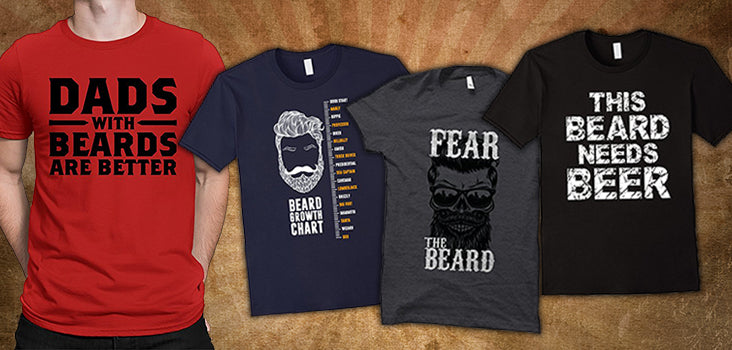 We hope you love the products we recommend! Just so you know, OtziShirts may collect a share of sales from the links on this page.
We all love our beardy guys, even if they sometimes get food in it or forget to groom it. They resemble Chewbacca from Star Wars or a cuddly teddy bear whose sole existence is based on our comfort.
Beards are a sign of masculinity. Of Super Manliness!
Once a gentleman has transcended the acts of manspreading and mansplaining, and triumphed over the Man Flu, he can grow the most majestic of beards.
A beard so glorious it would intimidate ZZ Top and Santa Claus.
You gotta love (or hate) them, and here are 9 (j)awesome beard t shirts for your favorite hairy dude to show it.
---
1. Great Beard Responsibility
Source: Amazon.com
Having a great beard is a lot of work. Ask the bearded babe in your life and they'll tell you just that. A man who grooms and takes care of his beard like a responsible facial hair sporter will always come out on top.
Get the With Great Beard Comes Great Responsibility Shirt on Amazon.com
2. Bearded Dads FTW
Source: Amazon.com
A dad who beers is great but a dad who beards is better. If they check both boxes then congratulations! You have the best dad in the world and he needs one of these beard t shirts as a congratulatory prize.
Get the Dads With Beards Are Better Shirt on Amazon.com
3. R-E-S-BEARD-C-T
Source: Amazon.com
If you don't respect the beard, do you respect anything at all? It takes guys a long time to grow epic beards to wear with these equally epic beard t shirts. They ought to get some kind of applause!
Get the Respect The Beard Shirt on Amazon.com
4. Fear the Beard T Shirt
Source: Amazon.com
Blue Oyster Cult told you not to fear the reaper and considering that record is definitely in your bearded dad's collection, it's advice you should heed. Because it's awesome beards and beard t shirts we should be most afraid of.
Get the Fear The Beard Shirt on Amazon.com
5. Merbeardos Are Real
Source: Amazon.com
With a design that rivals Flashdance's iconic image in sexiness, beardos worldwide will love this beard t shirt. We sure hope your favorite dude is ready to collect compliments! They're gonna happen a lot when they wear this one.
Get the Beard Flip Shirt on Amazon.com
6. Beard Conditioning

Source:  Amazon.com
Does the beard need the beer or the mouth hidden beneath it? Both, probably. The more epic the beard, the harder it is to not get beer all up in it. They coulduse this beer t shirt as a bib, but where's the fun in that?
Get the The Beard Needs Beer Shirt on Amazon.com
7. Save a Life, Join a Gang
Source: Amazon.com
Not the sort of gang who hurts anyone. Just the kind of gang where you all have beards, look cool, and maybe ride a motorcycle now and again. (The motorcycle isn't mandatory!) A cool gang. A bearded gang.
Get the Beard Gang Shirt on Amazon.com
8. Beard Growth Charts Are Necessary
Source: Amazon.com
This beard t shirt comes with a growth chart pre-installed. If your favorite bearded guy is unaware of the status of his beard, this could come in handy. Now, if only they could go from manly and top at lumberjack...
Get the Beard Growth Chart Shirt on Amazon.com
9. Unnatural is the Word
Source: OtziShirts.com
A man without a beard can be handsome, sure, but as this beard t shirt says, it can also be like a lion without its mane. A glorious, groomed beard can be the key to living a happier life. And also to hiding all manner of sins which is really the benefit here.
Get the A Man Without Beard Shirt  on OtziShirts.com
---
"There is always a period when a man with a beard shaves it off. This period does not last. He returns headlong to his beard." - Jean Cocteau
When you're right, you're right, and beardos everywhere will agree with Cocteau on this one.
To grow a beard is to return to man's primitive beginnings before shaving was invented. It's primal.
We love men in beards so much that it's almost as much as how we feel about men in beard t shirts.