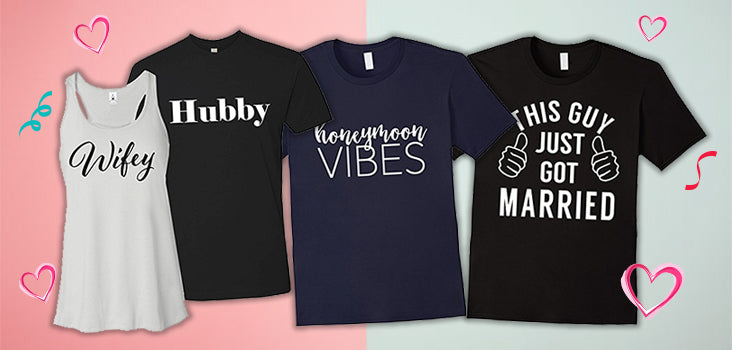 We hope you love the products we recommend! Just so you know, OtziShirts may collect a share of sales from the links on this page.
When you're just married, you're in the perpetual honeymoon phase for a while.
This is awesome because no matter what either of you wears, you'll still feel that post-wedding bliss without having to fit into your wedding clothes.
Being newlyweds is amazing. It's a testament to your staying power, patients, and I guess love, too.
Now you're happily wedded, you can wear all the just married shirts your wedding parties got you without irony!
Wearing them will garner you so many congratulations, you'll barely even realize the wedding is over.
Sound good? If I were just married, I'd think so.
So, without further ado, oTZI brings you some of the best just married shirts on the interwebs.
---
1. Simply Stated
Source:  Amazon.com
Wear rings on your just married shirts as well as your fingers. You've gone through so much to get to this point that it's time you got some congratulations. Or, rather, got more congratulations outside of the big day. This is for life, after all. You'll need 'em.
Get the Just Married Couple Shirt on Amazon.com
2. Established Roles
Source:  OtziShirts.com
This funny just married shirt is one that buddies should get the Groom before the big day. No matter how much we're able to stray away from gender roles, the idea of a bossy wife will always be there. (And sometimes, she'll fully admit it.)
Get the Under New Management Shirt Funny Just Married Shirt on OtziShirts.com
3. Honeymoon Vibes
Source: Amazon.com
If only they could last forever, huh? They might not but there are just married shirts (like this one) that can. When you're having a spousal in the future, you can wear this and remember your honeymoon - and then realize you bugged each other then, too!
Get the Honey Moon Vibes Shirt on Amazon.com
4. This Guy Got Married
Source: Amazon.com
If you couldn't tell by the flustered color in his cheeks or the ring on his finger, this is a just married shirt that will spell it out. It's a long road ahead, this marriage business. Maybe she'll let you go out with your buddies in this.
Get the This Guy Just Got Married Shirt on Amazon.com
5. Mr. and Mrs. Just Married Shirts
Source: Amazon.com
Bow down everybody, there are newlyweds coming through in matching Just Married shirts. These shirts are softer than the love you two share for one another! They also feel amazing when you wear them on the first day of your honeymoon.
Get the Mr and Mrs Shirts on Amazon.com
6. Evolution of the Groom

Source: Amazon.com
You were once a boyfriend, then became a fiancé, and now, you're the husband. It's a path many have taken before you and some haven't lived to see the tale, but you have. Congratulate yourself! You've got the life so many other people want.
Get the Boyfriend Fiance Husband Shirt on Amazon.com
8. Hubby and Wifey Forever
Source: Amazon.com
Matching just married shirts for an adorable couple? You bet we've found more than just one pair. There's no combo like a married couple combo. You guys have a connection with each other like nobody else has - it makes sense you'd have shirts too!
Get the Hubby and Wifey Shirts on Amazon.com
9. The Evolution of the Bride
Source: OtziShirts.com
It's time you showed your friends just who wears the pants in your relationship. Hubby may think he does or maybe he knows better, but you've clearly got this covered! You've beaten the girlfriend and fiancée levels to get to this point, damn it!
Get the Girlfriend Fiancée Wife Shirt on OtziShirts.com
---
Marriage is a serious step, but that doesn't mean it doesn't have to be funny.
Joke about your own wedding or just celebrate it with any one of these just married shirts that were created for that feeling.
And who knows, maybe you'll be able to pass them on to your future kids like they used to do with wedding dresses before us Millennials were adults!
Congratulations, kids. You did it.