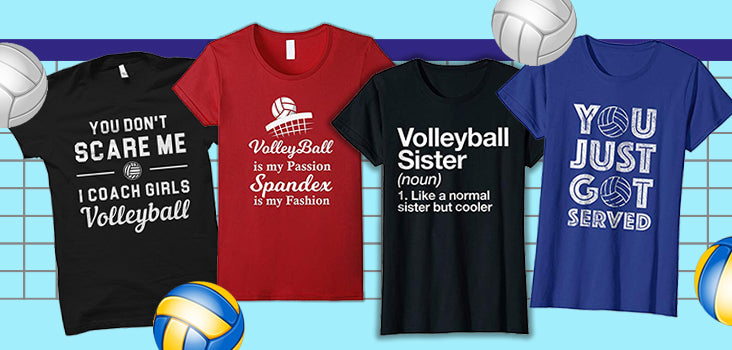 We hope you love the products we recommend! Just so you know, OtziShirts may collect a share of sales from the links on this page.
Unless you're a volleyball player, we doubt you've put much thought into why it's one of the best games in the world.
Sucks to be you!
Volleyball is awesome and these volleyball shirts are pretty much what every volleyball player (or their loved ones) needs. Just in case anyone ever has any questions about it and you don't want to have to answer them.
Statement tees are a huge thing in the fashion world, and they only seem to be getting more and more popular. The best part about them is they'll never go out of style.
So, volleyballers, what are you waiting on? Here are some volleyball shirts made just for you.
---
1. The Gelato is Over There
Source: Amazon.com
Sportsmen shouldn't whine about how hard or soft a serve is. The aim of the game is to win! Wear one of these volleyball shirts the next time you're playing with people who just can't help but blame their tools. And then make them buy you an ice cream.
Get the If You Wanted A Soft Serve You Should Have Gone For Ice Cream Shirt on Amazon.com
2. Coaches Are True Heroes
Source:  OtziShirts.com
Teaching teenage girls to do anything is a headache. They fight and argue more than you and your friends have in the decade since you guys were in that same position. But an empowered team is a great one. Girls, get your coach this volleyball shirt as a thank you!
Get the You Don't Scare Me I Coach Girls Volleyball Shirt on OtziShirts.com
3. An Important Schedule
Source:  OtziShirts.com
There's no possible way to forget your schedule when you're wearing it on volleyball shirts. It takes less time to slip on your shirt and go than it does to check the calendar on your phone. I mean, does anyone actually use that feature??
Get the Eat Sleep Volleyball Shirt on OtziShirts.com
4. Why Choose?
Source: Amazon.com
After a good game, giving into your cravings is a must. What better for the whole team than tacos? Whether you're a meat eater or a vegetarian, there's a delicious taco waiting for you. You don't even have to choose between tacos or volleyball shirts either.
Get the Volleyball and Tacos Shirt on Amazon.com
5. Love Volleyball Shirts
Source: Amazon.com
At least as much as you love the game. That's possible, right? This is an understated shirt that will have people complimenting you and asking you where you got it. One must never underestimate the power of a minimalist t-shirt. Not in 2018!
Get the Love Volleyball Shirt on Amazon.com
6. What's a Volleyball Sister?

Source: Amazon.com
A normal sister but cooler, like the volleyball shirt said. Don't argue with your sister, lest your head be the unintentional target of her next match. Volleyball players are just cool, so even if you and your sister don't get along, getting her this will make it easier to.
Get the Volleyball Sister Definition Shirt on Amazon.com
7. The Truth Hurts
Source: Amazon.com
Football players can pad themselves for the game all they want, it's way simpler than volleyball. It takes a lot to wear next to nothing on the beach, have your feet in the hot sand, volleyball shirts on your backs, and the ocean breeze in your hair. A lot.
Get the If Volleyball Was Easy They'd Call It Football Shirt on Amazon.com
8. You Got Served
Source: Amazon.com
These volleyball shirts are funny and amazing to slip over your head after a good victory. While not exactly applying ice to your opponent's wounds, they'd do the same in your position. A winner is a winner and a loser is just that. Vive la volleyball!
Get the You Just Got Served Shirt on Amazon.com
9. Volleyball Pride
Source: Amazon.com
What other countries out there are as greatly adept at volleyball but the USA? You might have played against teams from all over the globe, but it's a total American sport. Whatever the state of the country, you can be proud to be an American volleyball player.
Get the Volleyball USA Shirt on Amazon.com
10.

Strike a Pose
Source: Amazon.com
Don't ever let anyone tell you what you can and can't wear. Wearing your spandex underneath one of these funny volleyball shirts is totally rad and fashionable. Just think about how weird someone would look if they wore those things and didn't play volleyball.
Get the Volleyball Is My Passion Spandex Is My Fashion Shirt on Amazon.com
11.

Volleyball Moms Rule
Source: Amazon.com
Volleyball moms are insanely proud of their kids—for good reason! They're volleyball players and they're awesome for so many reasons. If your mom is always at one of your games, don't hesitate to buy her one of these volleyball shirts. She'll love it the way you love her!
Get the My Heart Is On That Court Shirt on Amazon.com
---
Whether you're a volleyball mom, volleyball player, sister, or other half, these volleyball shirts are surely about to add more awesomeness into your life.
I mean, as if you're not already the most awesome person already.