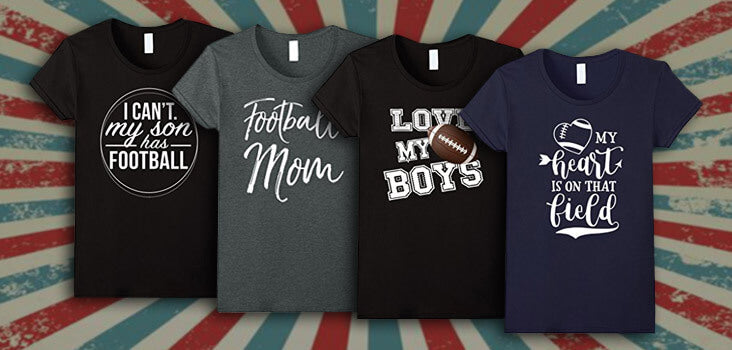 We hope you love the products we recommend! Just so you know, OtziShirts may collect a share of sales from the links on this page.
If Friday Night Lights taught me anything, it's that football moms are one of the best kinds of moms. You're not gonna argue this 'cause you're here for football mom shirts, which means your mom is (or you are) the BEST kind of mom!
Football moms are there to cheer their sons on when it comes to the field. They'll be there at every game, no matter what, because football is an important thing to a lot of people: oTZI included!
Football is a way of life that isn't for the faint of heart, and guys, think about your mom. Bleachers lighting isn't always the best, and there they are, supporting you always.
---
1. Friday Night Lights Spirit
Source: Amazon.com
It's the day of the big game and you know your mom's gonna be there. She told you that morning. She also told her friends who told their friends, and all of them are gonna be there to watch you shine. Gotta love mom!
Get the Football Mom  Friday Night Lights Shirt on Amazon.com
2. OG Football Moms Represent
This adorable football mom shirt is a great accompaniment for the cheer mom shirts we featured recently. For the mom who can't wait to tell everyone that their kid is an amazing football player, the shirt says it for them. Way less embarrassing.
Get the Football Mom Shirt on Amazon.com
3. Mom Knows Her Favorite Player
Ready to meet your new favorite Friday shirt? Here it is! This isn't a regular football mom shirt. Once you turn around, people will see its true message. They could be waiting their whole entire lives to meet their favorite player, you do yours' laundry!
Get the Favorite Player Shirt on Amazon.com
4. Mom is Your Number One Fan
Source: Amazon.com
For the football mom (or dad!) who has one or more sons who play, this football shirt was made for them. By their sons. No, we're kidding. Footballers don't have to stitch their own stuff. (That's mom's job!) But then, they can if they want.
Get the I Love My Boys Shirt on Amazon.com
5. Mom's Favorite Excuse
Some moms find it hard to lie or to stretch the truth to get out of something. This can make them grumpy. You can fix that! Since she's a football mom, she can use this excuse to get out of tea with the annoying woman she hates at PTA meetings.
Get the My Son Has Football Shirt on Amazon.com
6. Does Your Mom Yell at the Ref?
Source: OtziShirts.com
We have a funny football mom shirt just for her! It can be embarrassing but mom knows best and she's pretty much always right. Gifting her this shirt will get you a little laugh and maybe a slap on the arm. Again, WORTH IT.
Get the I Yell at The Ref Shirt OtziShirts.com
7. Behind Every Football Mom Shirt
Source: Amazon.com
Some players believe in themselves, others don't. It can't be helped, but mom has a lot to do with players who believe in themselves. The Quarterback? You bet he's close to his ma! This shirt is just plain fact.
Get the Behind Every Football Player Shirt on Amazon.com
8. Keep Calm and Carry Mom

Some football moms get kinda carried away. Let's rephrase that: ALL football moms get carried away. Their whole mood can depend on the last play made, which is kinda scary for the people sitting next to them. At least if they're in this shirt, there are no surprises.
Get the Keep Calm Football Mom Shirt on Amazon.com
9. Football Moms Have Hearts
It may not seem it when someone on the opposite team does their son wrong, but they totally do. Other moms will love this football mom shirt too. Soon, there'll be a gaggle of moms wearing this exact tee. Bet you can't wait.
Get the My Heart is On The Field Shirt on Amazon.com
10.  Football Moms Don't Do Quiet
Why would they? Being loud means they can cheer on their son or yell at the ref, or speak louder than the other football moms who are also speaking loudly! Basically, football moms are supposed to be loud, especially when it's football season.
Get the Could Be Quieter Shirt on Amazon.com
---
It takes a lot of energy, pride, and power to be the best football mom; one your son can be proud of and that the referees know not to mess with!
Being a football mom is a full-time job, and it's way more fun done in a football mom shirt.