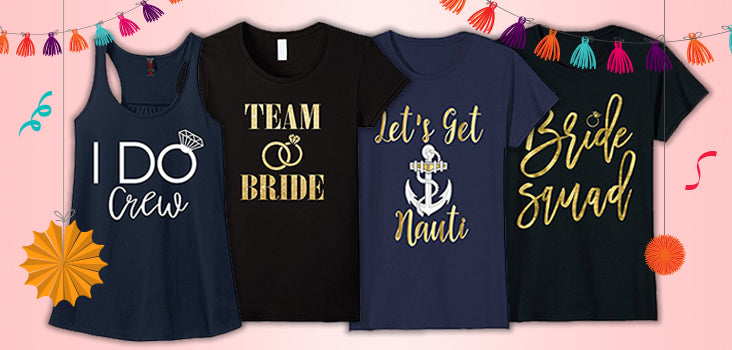 We hope you love the products we recommend! Just so you know, OtziShirts may collect a share of sales from the links on this page.
There is one thing better than your best girlfriend's wedding day and that is? HER BACHELORETTE PARTY.
Whether you're in charge of it or just along for the ride, making sure your girlfriend's last night of freedom is one to remember is an activity for pretty much everyone invited to the shenanigans!
It's best to share out responsibilities, too. That ensures there's less pressure on everyone and the truest fact in the world is that less pressure = more of a good time, and why the heck should the guys get all the fun?
This is a huge night for the bride-to-be and for your friendship group, and the best place to start is right here, with bachelorette t-shirts for the whole crew.
---
1. 

Feisty Wifey to Be
Source: Amazon.com
Bachelorette party supplies come no better than these two tank tops that come in all shapes and sizes for your party members. Fun isn't fun unless there are matching bachelorette t-shirts involved! Well, that and a lot of tequila...
Get the We're getting Feisty and Soon to be Wifey Tank Tops on Amazon.com
2. Bride Tribe Assemble
Source: Amazon.com
What you really need for your pre-wedding crew is a nickname. It's more important than it would be if y'all were a roller derby team. You've gotta stand out from the crowd and these matching bachelorette t-shirts are, to use an emoji: ??
Get the Bride Tribe Shirt on Amazon.com
3. I Do Love This Bachelorette T-Shirt
Source: Amazon.com
Put it this way, if your girl hadn't had said "I do", you would so not be here in this position and ready to party. Clearly, we must celebrate her pre-married life to the utmost degree! Try to keep these bachelorette t-shirts on all night...
Get the I Do Crew Shirt on Amazon.com
4. Round Up the Bride Squad
Source: Amazon.com
The name may not be a pun or rhyme, but it's what you are. A squad is always together through thick and thin, and you guys wouldn't be a bachelorette party if you weren't loved. It's time to paint the town wed!
Get the Bride Squad Shirt on Amazon.com
5. 

Who'll Drink the Most?

Source: Amazon.com
On the wedding day, drinks will be on the father of the bride but on the night of the bachelorette party, your mission is to ply the bride with alcohol. And maybe also wear these fitting bachelorette t-shirts while you do. Round is on you!
Get the Bride's Drinking Team Shirt on Amazon.com
6. Sail Away on Booze

Source: Amazon.com
Before you say goodbye to your bestie's maiden name, it's time to take that final journey elsewhere. Maybe she's marrying a sailor or maybe she just appreciates marinière a whole lot but your whole bachelorette party will LOVE this.
Get the Let's Get Nauti Shirt on Amazon.com
7. 

Poppin' Bottles and Bustin' Moves

Source: Amazon.com
As the maid of honor or a bridesmaid, you have to be careful that the bachelorette party isn't too fun. We don't want to upstage the actual wedding right? (Even though you totally could with all that bubbly).
Get the We're Popping Bottles Shirt on Amazon.com
8. Team Bride or Groom?
Source: Amazon.com
No one will question which side you're on when you're wearing these bachelorette t-shirts. The last thing you want to happen is for people to think you're friends with the groom, all they do is watch sports! You bridesmaids are classier than that.
Get the Team Bride Shirt on Amazon.com
---
Saying goodbye to the friend you have known for a long time is hard, but think about it like this: Your bestie might be getting hitched and starting a whole new chapter in her life, but after the honeymoon period, she's gonna be super up for a ton of prosecco nights.
And who will be there to help her? You, your wedding crew, and the memory of the night you girls spent in your bachelorette t-shirts.