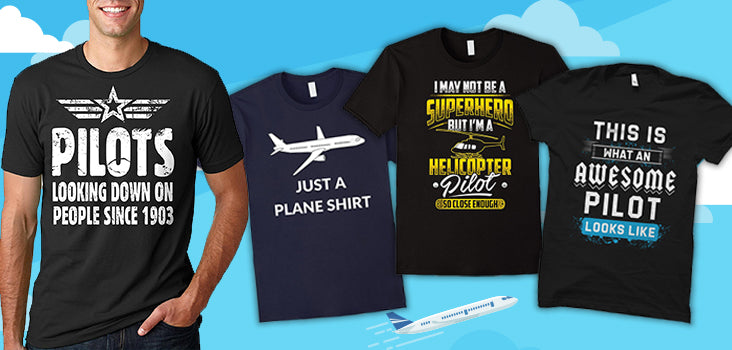 We hope you love the products we recommend! Just so you know, OtziShirts may collect a share of sales from the links on this page.
Man, to be a pilot must be the most amazing thing. We don't know how they do it.
Not only are they in charge of getting a huge, metal craft into the air over oceans and mountains, but we trust them with our lives too.
The craziest thing about pilots is that they have little to no ego. If there's a pilot in your life, you know that they do what they do because they love flying.
How can they not??
Flying is cool even when you're not in the cockpit, but it takes a special person to keep airplanes on track. Here are 9 pilot shirts for the brave flyers in your life!
---
1. Pilot Preferences
Source: Amazon.com
As a pilot, there's a lot in life that makes you wish you were back in the air. Up there, you don't have to speak to anyone, and when is that not a bonus? Here's a pilot shirt for the pilot who just wants some peace and quiet.
Get the I'd Rather Be Flying Shirt on Amazon.com
2. A Pilot Shirt to Match Your Insides
Source: OtziShirts.com
The next time your pilot has their yearly check-ups, the design that's on this pilot shirt is basically what the doctor will see. More than any profession, a pilot takes their work home. Love is, for them, always in the air.
Get the Pilot Heartbeat Shirt on OtziShirts.com
3. Code Name: Chopper
Source: Amazon.com
Are superheroes really cooler than helicopter pilots? I don't think so! Superheroes have powers and have to wear lycra, maybe fight some baddies sometimes. Helicopter pilots have to get into their helicopters while the blades are spinning - that takes cojones!
Get the Not A Superhero But A Helicopter Pilot Shirt on Amazon.com
4. Dreams Can Come True
Source: OtziShirts.com
This pilot shirt is best bought by a pilot for their other half. I mean, everyone should know what a sexy pilot you are. Because duh. All jokes aside (who's joking?), your other half will totally wear this with pride.
Get the I Never Dreamed I'd End Up Marrying a Pilot Shirt on OtziShirts.com
5. Every Pilot Needs a Co
Source: Amazon.com
Co-pilot in life or in work, you are totally essential. If anything goes wrong, the co-pilot is there to step the frick up! If they just need a hug, well then damn it, that's what the co-pilot is there for too!
Get the Co Pilot Shirt on Amazon.com
6. Plane White Tees

Source: Amazon.com
Any pilot that's also a dad will appreciate the pun on this pilot shirt. Heck, any pilot that isn't one will, too. Everyone needs some plane t-shirts in their wardrobe. It's just infinitely better when it comes with a pun.
Get the Just A Plane Shirt on Amazon.com
7. Flying is Life
Source: Amazon.com
Once a pilot becomes a pilot, their heart rate changes. Where there was once peaks and dips, there are planes and hearts because they just love flying so dang much. Who can blame them? They're high in the sky
Get the Airplane Heartbeat Shirt on Amazon.com
8. The Pilot Hierarchy
Source: Amazon.com
Or, to put a spin on it, h-air-archy. This pilot shirt isn't so much being mean as it is stating facts. Since the Wright brothers invented flying, pilots have literally been looking down on all of us. Literally.
Get the Pilots Looking Down On People Since 1903 Shirt on Amazon.com
9. What Does An Awesome Pilot Look Like?
Source:  OtziShirts.com
Like whoever wears this pilot shirt, duh. This is probably the essential pilot shirt to give to your dad, sibling, or significant other who happens to fly planes for a living. (Lucky). I mean, they're awesome for just being a pilot.
Get the This Is What An Awesome Pilot Looks Like Shirt on OtziShirts.com
---
Whatever or whoever the pilot in your life—even if it's you!—they deserve the best when they come down to earth.
What more could they have next to you, their family, and their awesome friends?
Well, one of these pilot shirts wouldn't go amiss.
What do you expect them to wear every day, their uniforms??