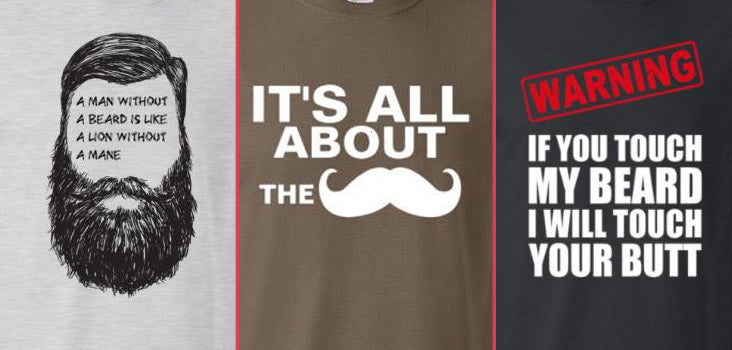 You know what they say about a beard, right? Every great beard deserves a great t-shirt.

Ok, so that isn't what they say, but it should be standard for every man to have a beard t-shirt. It's a cool way to honor that part of a man's man that we all love, the ability to grow an epic beard.

Beard shirts are the perfect way to show the man in your life that you love him. Is it your dad? Show him that he's the original man. Is it your boyfriend or husband? Show him the true reason you stay with him. Listen close. It isn't love. It's the beard.

Even if you aren't able to grow a luscious beard, you can still show your love and respect to the beard's greatness through apparel. These are appropriate for nearly all occasions. Here are some ways you can show your beard love.
Beard Gift from Santa for Christmas?
This holiday is the perfect time to celebrate the jolliest of beards, Santa. Beard shirts are only fitting. You can put shirts with Santa's beard in stockings, or purchase beard related gifts to put under the tree.
If you want to shine, do both for a whole beard theme. You can find serious beard t-shirts, comic beard t-shirts, and holiday-themed t-shirts as well. Spread some Christmas cheer for the most distinguished beard wearing fellow in your life.
A Beard Shirt for any Birthday Party
Beard t-shirts are perfect birthday gifts, especially if the recipient has an epic beard that deserves its own holiday. Gifts like this celebrate both the man and the birth of an epic good decision: that of growing out his beard.
You can get a lot of gifts, but beard t-shirts are probably the perfect one. It isn't just for men either. You can also get the woman in your life the perfect shirt to show off her dedication to men with beards.
It's the one day you get to celebrate your birth, and it would be a shame to allow it to go by without a beard gift.
Beard Gifts for ever occasion
There are also shirts for any other occasion you could think of including just the celebration of the beard itself. You can buy shirts that explain different kinds of beards. You can also find shirts that mimic the beard that he has.
You might try getting beard t-shirts for your friends if they have children so you can spread the love of beards to the next generation. There are even baby beard onesies for the coolest babies around.
You can also get beard gifts that celebrate famous beards. T-shirts with the images of famous beards throughout history, or celebrities with enviable beards are good choices.
It's important that you fully appreciate the magnitude of beards and what they can offer the world. What do they offer, you ask? Epic good looks and inspiration for the sea. Or something.
Men, don't just settle for any gift. Show your adoration to your beard fandom with a beard gift.