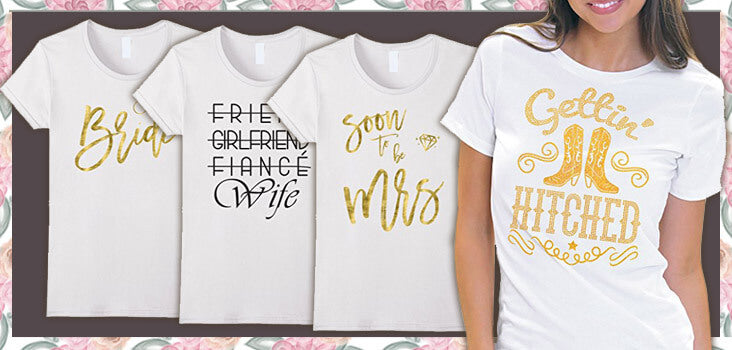 We hope you love the products we recommend! Just so you know, OtziShirts may collect a share of sales from the links on this page.
Congratulations bride (or bride-to-be!), you locked them down and got a gorgeous ring on your finger to prove it! I only wish you'd invited Otzi to the wedding, assuming there was a free bar for the reception afterward. That's why everyone gets married.
Oh, and love.
Dearest, most secret, sacred love. Written about since the beginning of time as we know it and praised yearly over Valentine's Day, anniversaries, and whenever you decide to say, "Hey, let's wear our matching couples shirts today!".
Ah, love. When things like that no longer matter and you have the bride shirts in your wardrobe to prove it.
What do you mean, "I don't have a bride shirt yet"? Here. We'll give you ten of them to change that...
---
1. Relationships Are About Mutual Theft
Source: OtziShirts.com
Hearts, clothes, sometimes the totally worth it sanity. You've given each other all you can in every aspect of your lives and so now, it's time to celebrate your love with a bride shirt that's gonna show you're just as influential as he is!
Get the He Stole My Heart Shirt on OtziShirts.com
2. Tell Them Who You Are in this Bride Shirt
Source: Amazon.com
It's simple. You just roll up to the bar at your anniversary, which you can do because the dress is now in the closet somewhere and you're either gonna sell it or turn it into an heirloom and tell them your drinks are on your bae's tab. When they ask who you are, point to your shirt! Dunzo.
Get the Gold Bride on Amazon.com
3. Friend Shirt? Girlfriend? Fiance? Try WIFE Shirt
Source: Amazon.com
If relationships were in stages like the progression towards the first date goes in bases, then this bride shirt would be totally spot on. You've worked your way through at least two of the first three and heck it, you deserve to be here!
Get the Friend Girlfriend Fiance Wife on Amazon.com
4. This Shirt Grants Free Alcohol for the Bride-to-Be
Source: OtziShirts.com
You can get more than one shot for tying the knot if you're coming out with oTZI. Marriage is a huge—and literal!—commitment. Commitment means you need more than one tequila. (This shirt is also perfect for a bachelorette party).
Get the Buy Me a Shot I'm Tying the Knot Shirt on OtziShirts.com
5. Bachelorette Party Shirts in Abundance
Source: Amazon.com
If you're not the bride, then you're the one whose job it is to plan the bachelorette party, and unless you know where to look, party gifts can be tacky. Not with bachelorette party shirts like this one on the block, they're not!
Get The Soon To Be Mrs Shirt on Amazon.com
6. Gettin' Hitched in the Best Bride Shirts
Source: Amazon.com
Sick of looking at dresses? Why not say, "the heck with it!" and get hitched in this tee? You don't need a gorgeous dress to solidify your love. All you need is love. And cowboy boots were made for walkin' down the aisle, y'all.
Get the Getting Hitched Shirt Amazon.com
7. Multi-Colored Bride Shirts 'Cause White is Passé
Source: Amazon.com
Maybe you like white, and we do too, which is why we chose that Bride shirt to feature. That said, there are five different colors to pick one. If you love your boo enough, you could even get all five.
Get the Bride Shirt on Amazon.com
8. The Biggest Catch for Him
Source: Amazon.com
You may have it in your head that he's a catch, but you are too! This funny shirt for you or your bride-to-be friend plays on this in a hilarious and brilliant way and is totally awesome as long as you know who's really the biggest catch.
Get the I Got One Shirt on Amazon.com
9. Some Shirts for Relations of the Bride
Source: OtziShirts.com
All the attention is on the bride around the time of a wedding, and that's cool and all, but what's even cooler is when moms and aunts and cousins can get in on the bachelorette fun too.
Grandmother of the bride and cousin of the bride shirts are also available!
Get the Aunt of The Bride Shirt on OtziShirts.com
10.

You're a Blingin' Bride Now
Source: Amazon.com
Ever think they should add gold to the wedding color palette? I mean, it would go so great with your ring and your dress. This fancy bride shirt is everything your friend could want and more while you're enjoying their bachelorette festivities for them!
Get the Golden Bride Shirt on Amazon.com
---
The moral of this story (and of this collection of bride shirts) is that marriage and love can both be hard, but it can be a bunch of other things too.
Marriage can be safe, comforting, rich and warm. It means sleeping in the same bed unless they've annoyed the crap outta you and is now on the couch.
Everyone should be able to get married because everybody should be able to love.
Where does oTZI come into this? Well, everybody should be able to wear funny shirts, too!