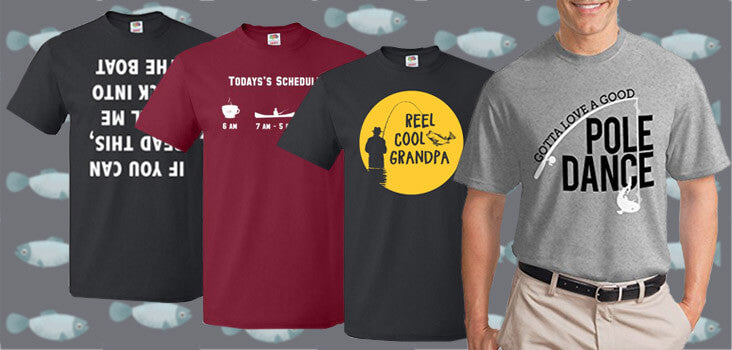 We hope you love the products we recommend! Just so you know, OtziShirts may collect a share of sales from the links on this page.
We all have one.
At least, I suspect that we all have one.
Be it a father, an uncle, a grandpa, or the brother everybody swears loves to fish but has never cast off a line in his adult life. Everybody knows one fisherman and everybody will always know one fisherman, until the end of time, when the lakes and rivers dry up and we're all pod people.
And even then...
Fishing-related gifts are great for Father's Day and birthdays. I ask you this: How many birthday cards have you seen in the dad or uncle sections with a fishing rod and/or a fish on it?
Here are 10 funny fishing shirts to add to your list of gifting possibilities! 'Cause, believe it or not, those fishermen have senses of humor.
---
1. Tell Your Grandpa He's Reel Cool
Source: OtziShirts.com
What I've uncovered so far is that fishermen, like most millennials, are suckers for a good pun. This funny fishing shirt goes above and beyond dad humor to bring you grandpa humor, and anyone's grandpa that loves to fish will get a hook out of this.
This shirt is also available for Dad, Gramps, Opa, Poppy, Uncle, and Papa!
Get the Reel Cool Grandpa Shirt on OtziShirts.com
2. The United States of Fishing is a Constitution
Source: Amazon.com
You'll be the most popular daughter/wife around if you get your pop or hubby this funny fishing shirt that blends true Americana with, well, fish. While not as blatant as some of the others, that just means they can wear it anywhere, like wearing a band tee to their concert.
Get the American Flag Fishing Shirt on Amazon.com
3. Fishermen Love Pole Dancing!
Source: Amazon.com
Fishing, while available to everyone, is one of those "sports" that are decidedly dudely. Your dad or your husband probably even has his own wardrobe for fishing but you can't get him in a nice suit and tie to have dinner with friends. It's all right, though, get them this shirt and they'll love it so much they'll do anything.
Get the Pole Dance Fishing Shirt on Amazon.com
4. Retirement is for Fishing
Source: OtziShirts.com
Did you miss the memo? Working takes massive amounts of time away from the enjoyable things in life to fishermen, like going to the lake or the tackle shop and watching River Monsters in you retirement shirt. Oh, and family. Sure, that, too...
Get the Retired See You At The Lake Shirt on OtziShirts.com
5. Dirty Funny Fisherman Shirt? You Got It!
Source: OtziShirts.com
It's at this point where your fisherman's humor intersects with frat boys and Judd Apatow movies. You love them because of, not in spite of it. You might have to hide this from the grandkids, but it's a price to pay to make him smile.
Get The I'd Rathe Be Fishing Shirt on OtziShirts.com
6. Tempt the Fish in this Tee
Source: Amazon.com
If fish could read English, they'd come right out of the water if your fisherman wore this one. Who knows? If you're fishing in the states, they might just! This fishy-fishy shirt comes in five different colors and for men and for women.
Get the here Fishy Fishy Fishy Shirt Amazon.com
7. Wear Your Fishing Schedule
Source: OtziShirts.com
You can't blame anybody for wanting this routine. Coffee is always the right choice for the AM. Fishing, well, for the guys (and gals) who'd wear these funny fishing shirts, is a given. And beer for supper is 100% part of your five-a-day. Ask anyone.
Get the Fishing Schedule Shirt on OtziShirts.com
8. The Rodfather aka Don Codleone
Source: Amazon.com
So that's what they meant by sleeping with the fishes. oTZI is about to make you an offer you can't refuse with this funny fishing shirt that is subject to arrive with the head of a salmon in your bed. Decidedly more pungent than a horse's, but fishermen don't mess around!
Get the Rodfather Shirt on Amazon.com
9. Fishermen Keep it Reel
With a shirt that's 100% cotton and has a high-quality print, the makers of this funny fishing shirt have your backs, fishermen. Your fishermen can wear this around the house or wear it to fish, maybe take it to the bar to show it off. This is fisherman's humor at its finest!
Get the Keeping it Reel Fisher Shirt on Amazon.com
10.

Can You Read This?
Source: OtziShirts.com
Your fisherman hooked the biggest catch of his lives. Those dudes on TV have nothing on the trout that's stronger than a giant catfish. Sometimes, falling into the water is worth it, and other times, the scenario is just too damn funny to picture!
Get the If You Can Read This Fishing Shirt on OtziShirts.com
---
Whether you're a fishing aficionado yourself or it's one of your loved ones, oTZI has their best interests at heart with this list of funny fishing shirts that were curated by our own desires, just hoping you or your loved ones will like them too.
And if you're lucky? Even the fish will.