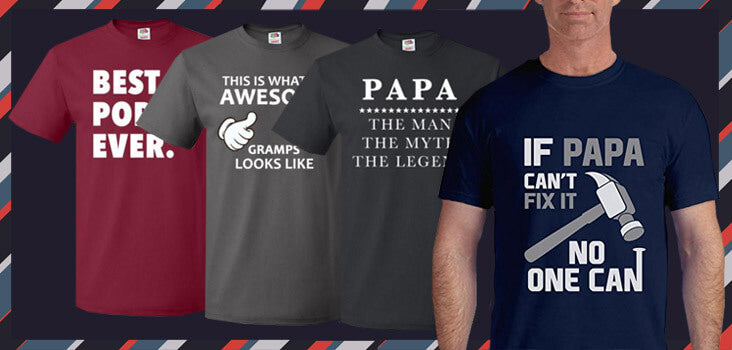 We hope you love the products we recommend! Just so you know, OtziShirts may collect a share of sales from the links on this page.
Some people are mommy's boys. There are daddy's girls and men's men and then, there's you, Gramps' favorite. You're the one he's passed on all of his wisdom to; wisdom he didn't bother to teach your dad or mom.
Maybe he taught you how to fish or how to throw a ball. Maybe he played pirates with you and indulged your imagination whenever you found "treasure"... 
Grandpas are literally the BEST and there is nothing you can't learn from them! That's why oTZI thought it only right to highlight 10 Grandpa shirts that will make Gramps super happy. 
So, why not surprise him today?
---
1. He is, After All, the MAN
Source: OtziShirts.com
And the shirt has it right, he's the myth and the Legend, too. He's someone whose stories will stick with you forever, so it's only right you give him the Papa t shirt of his and your dreams. Show Grandpa you think the world of him in the best way!
This Papa shirt is also available as Gramps, Grandpa, Opa, Pawps, Poppie, Pops, and Poppy.
Get the Papa The Man The Myth The Legend Shirt on OtziShirts.com
2. This Funny Grandpa Shirt is SO On Point
Source: Amazon.com
You know it, he knows it. Heck, your whole family knows it during get-togethers and family holidays like Thanksgiving and Christmas. You and pop-pop are inseparable and there has never been as successful a duo since Calvin and Hobbes. Why else are you never allowed to be on the same board game team? 
Get the Grandpa Partner in Crime Shirt on Amazon.com
3. This Grandpa Shirt is for You Guys Who Call Him Papa
Source: Amazon.com
Sure, Grandpa technically means that he's the grandest of Pa's, but some Gramps just like being called Papa and it's becoming more and more used the world over. If your Papa is one of those guys, oTZI salutes him! And he would look totally amazing in this. 
Get the Papa Shirt on Amazon.com
4. Another Shirt for the Best Poppy Ever
Source: OtziShirts.com
You don't have to worry, this excellent Grandpa shirt is available as Gramps, Opa, and Papa, too. Its straight-to-the-point message will make your Poppy feel like he's the best, which works because he is the best and he should know it! 
Get the Best Poppy Ever Shirt on OtziShirts.com
5. Dads Should Know This to be True
Source: OtziShirts.com
In some cases, your dad even learned everything they knew from your grandpa, which means he literally does know everything your dad knows and more! He was also never under any obligation to get you to do your homework, which he should get a prize for. Let this Grandpa shirt be that prize.
Get The Grandpas Know Everything Shirt on OtziShirts.com
6. Surprise Grandpa Like Never Before
Source: Amazon.com
You haven't told your dad he's going to be a Grandpa yet, but you know he's always wanted to be and that he'll be over-the-moon when he finds out, right? Well, why not gift him a Papa shirt to tell him about the on-coming arrival? He's gonna love it!
Get the Grandpa to Be Shirt Amazon.com
7. Make Pops an Offer He Can't Refuse
Source: Amazon.com
That offer is clearly this Godfather/Grandpa shirt because it's awesome. This is just a guess, but your dad or Grandpa is probably a huge fan of the Corleone family trilogy, and picturing their face when they realize it says Grandfather will be the BEST. 
Get the Grandfather Shirt on Amazon.com
8. Just So Everybody Knows...
Source: OtziShirts.com
Does your dad or father-in-law make the coolest and best Grandpa ever? You want to look into getting him this. Think of the grinning that he'll do when he walks around in this and people get to see what an awesome Poppy looks like.
This Grandpa shirt is also available as Poppa, Papa,  Gramps, and Opa! 
Get the This Is What An Awesome Poppy Looks Like Shirt on OtziShirts.com
9. Papa Can Fix Everything
You might even find him wearing this Papa shirt when he comes around to visit and winds up fixing a few things in your home. As he should! Where would any of us be without our Grandpas having a toolbox? Drowning in a flooded bathroom is our guess!
Get the If Papa Can't Fix It Shirt on Amazon.com
10.

A Grandpa Shirt for Grandpas Who Fish
Source: OtziShirts.com
If Gramps is a fisherman, you might find him angling for fishing-related gifts around the holidays, his birthday, and Father's Day (if he wants one at all!) This Grandpa shirt mixes the two perfectly and shows that he's a fisherman and a DAMN cool dude.
The shirt is also available as Dad, Gramps, Opa, Papa, and Poppy.
Get the Reel Cool Grandpa Shirt on OtziShirts.com
---
So, whether you love your Grandpa a lot or have kids and just know that your dad makes the best Grandpa ever, there is a Grandpa shirt for every kind of Gramps and knowing how much they mean, will 100% make their day.