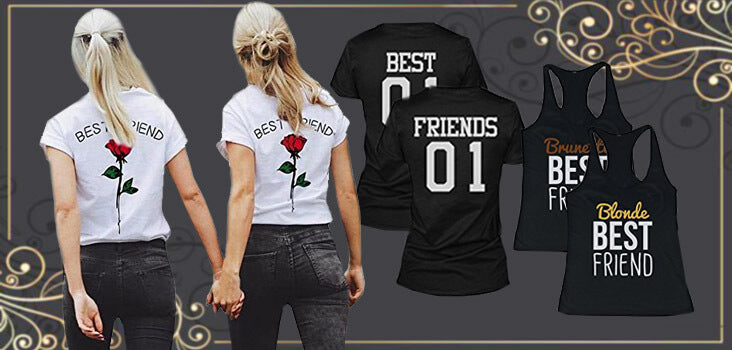 We hope you love the products we recommend! Just so you know, OtziShirts may collect a share of sales from the links on this page.
There are so many TV shows and movies that focus on friendships, maybe even more than those that focus on relationships. Friends are so important to have. You can live without having a significant other, but living without friends is hard and just... way, way boring.
Best friends are the best of those friends, as their title denotes, and the older you get, the more you realize you don't only have to have one if you don't want to.
If you do, though? There are soo many adorable best friend shirts to be found online. They'll help you connect with each other as kind of a visual version of a secret language or, honestly, just to celebrate your friendship.
Get a load of these, besties...
---
1. Because Your Friendship Smells of Roses
Source: Amazon.com
If it had a scent, that is, it would. Why should couples get all the fun with their matching his and hers shirts? It's your time now, friends, with matching BFF shirts that are super cute and customizable so if you don't like red, you can pick one of three different colors!
Get the Roses Best Friends Shirts on Amazon.com
2. Because One of You is Best and One is Friend
Source: Amazon.com
Just kidding! You guys are both the best and when you wear these best friend shirts at the same time, the whole world will know it and be envious. They are plain on the front, but don't let that fool you. When you turn around, watch the jealousy dripping from everyone else 'cause they wish they were so cool.
Get the Matching Best Friends Shirts on Amazon.com
3. Because Not Everyone Can BE the Best
Source: OtziShirts.com
Or hey, maybe you just don't want to rub in how cool of a friend you are or have. This super funny best friend t-shirt is for the friend who can take a joke, which has to be all of them, 'cause that should be why you're friends! Leave your expectations at the door!
Get the World's Okayest Friend on OtziShirts.com
4. Because You're Both Crazy for Each Other
Source: Amazon.com
You're either friends with your bestie or your bestie is friends with you because you're totally crazy and get into crazy amounts of trouble together! These cute best friend shirts put emphasis on "double trouble", I'll tell you that.
Get Crazy BFF Shirts on Amazon.com
5. Because Hugging is EASY
Unless you're the t-rexes on these super cute and adorable BFF shirts. How can you beat dinosaurs whose arms are so short they need to use sticks to hug each other? Hugging means no vegetarian dinos will be harmed ever again.
Get the Dinosaur Best Friends Shirts on Amazon.com
6. Because Blondes AND Brunettes Have Fun
Source: Amazon.com
Having the same hair as your bestie is awesome, but so is having different! If one of you is blonde and the other bestie a brunette, these best friend t-shirts are perfect for you both. In case people couldn't tell 'cause of your beauty...
Get the Brunette and Blonde Best Friends Shirts Amazon.com
7. Because Alcohol + Bad Decisions = Interchangeable Best Friend Shirts? Check!
Source: Amazon.com
You and your BFF have so much fun that some may say you have a little too much fun, but they're either jealous or it's their turn to get the round in because, HELLO, you guys are the life of the whole stinkin' party!
Get the Best Friends Party Shirts on Amazon.com
8. Because Your BFF has a Piece of Your Heart

These best friend shirts have the classic best friend design with the heart split in half, and they are the best shirts for besties because of it. You remember your first best friend and you getting one of those necklaces? This is like that but COOLER. (And way harder to lose).
Get the Best Friends Hearts Shirts on Amazon.com
9. Because Y'all Just GO Together
Like salt and pepper, black and white... burgers and fries! You and your bestie are delicious and other people could only wish their friendships were this good. What matters, is that you match!
Get the Funny Best Friends Shirts on Amazon.com
---
Life is sooo much more fun with your BFF by your side. Even when life gets you down, she'll be there to pick you up again, and you'd do the same for her.
The older you get, the harder it is to make friends, so when you have one that you never wanna let go of, make sure you guys have some cute best friend shirts that will show your bestie you're there for the long haul.