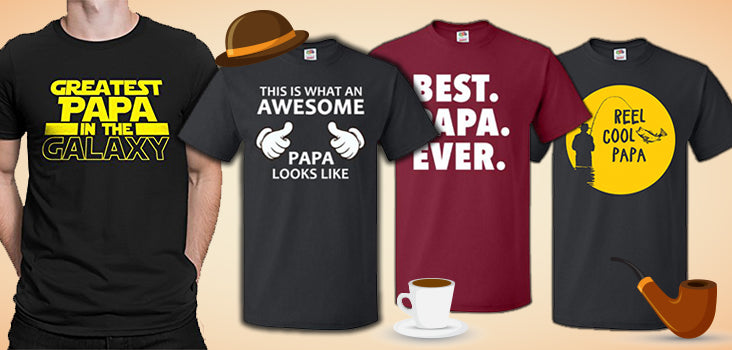 We hope you love the products we recommend! Just so you know, OtziShirts may collect a share of sales from the links on this page.
You may have heard about the coolest dude in all the land. His name? Papa. His legend precedes him and yet when it comes to being Papa, he lives up to all expectations.
Who else will pick you up from the airport at 4 am (and get mad if you didn't ask him!)? Is there anyone else who has taught you to catch, how to fish, and the importance of a beer at the end of the day? Would you rather have any other Papa but him?
Your papa takes the reins on a long line of great dads like Dan Conner and Al Bundy and is even better than them at what he does.
Plus, he's yours. So why not surprise him this Father's Day with one or two of these perfect papa t-shirts?
---
1. The Man, the Myth, the Papa Shirt
Source: OtziShirts.com
Let's not forget legend. Your Papa is a little too humble to say the word himself. That's why you have to do it for him by giving him a papa t-shirt that will do it for him. Everyone wins!
Get the Papa The Man The Myth The Legend Shirt on OtziShirts.com
2. Tell Him it's Your Favorite Too
Source: Amazon.com
How good is a bond between father and daughter or son? Yeah, sometimes you get on each other's nerves. That's what parents and kids are supposed to do, but what matters is that you have each other's backs. And always will.
Get the Papa Is My Favorite Shirt on Amazon.com
3. Papa in Crime
Source: Amazon.com
Today you learned that Papa is short for "partner in crime". You know your dad better than anyone, so you'd be the last person to argue the truth like that. A partner in crime in this Papa shirt cannot be beaten. People can try...
Get the They Call Me Papa Shirt on Amazon.com
4. Your Papa is Reel Cool
Source: OtziShirts.com
He loves to fish, but he never goes fishing for compliments. Is that not part of why you love him so much? This Papa t-shirt is for the dads who love to go fishing more than they love, well, everything but you.
Get the Reel Cool Papa Shirt on OtziShirts.com
5. You're his Favorite People
Source: Amazon.com
You know it, your siblings know it; even the dog knows it. When your Papa is basically your superhero, it takes a lot of failed words to explain why he's so cool. With this Papa shirt, you can call yourself cool too.
Get the My Favorite People Call Me Papa Shirt on Amazon.com
6. Best Papa Ever Right Here

Source: OtziShirts.com
Sparing no expense, why beat around the bush when your dad is the best dad in the world? Witty captions and dad jokes are good and cute phrases are too, but some Papas are straight talkers. And this Papa t-shirt is just that, too.
Get the Best Papa Ever Shirt on OtziShirts.com
7. Best Papa, You Have
Source: Amazon.com
So many of us around the globe had Star Wars introduced to us by our father figures. It just makes sense to mix the two! This Papa t-shirt is ideal for the kind of geeky dad who can beat you at Mario Kart.
Get the Greatest Papa In The Galaxy Shirt on Amazon.com
8. Always Papa Cola
Source: Amazon.com
Dr. Pepper would have had a better ring to it, but as far as Papa t-shirts go, this one is too good to miss out on. It's another shirt that is straight to the point, made for logical dads who love them some Coca-Cola.
Get the Papa Cola Shirt on Amazon.com
9. What an Awesome Papa Looks Like
Source: OtziShirts.com
If Awesome Papa was a phrase included in the dictionary, a photo of your dad's face would be right there. If you don't want to tell him to shave first, just make him put this Papa t-shirt on. CLOSE ENOUGH.
Get the What An Awesome Papa Looks Like Shirt on OtziShirts.com
10. Retirement? Pff
Source: Amazon.com
Papas don't retire. They can't. Once a Papa, always a Papa if they're worth one of these Papa shirts. Being a dad is a full-time job. When retirement comes, that means they'll be able to be your taxi (and wish they were back at work!)
Get the I'm A Professional Papa Shirt on Amazon.com
---
Full-time job or one of their favorite hobbies, being a Papa isn't as easy as it looks.
To be an emotional support for his kids and intimidate his daughter's partners? Forget about it!
But he does it all, all the same. Because he's your dad. Your papa. And he's worth the world.
See his face light up when you give him his brand new Papa t-shirt.