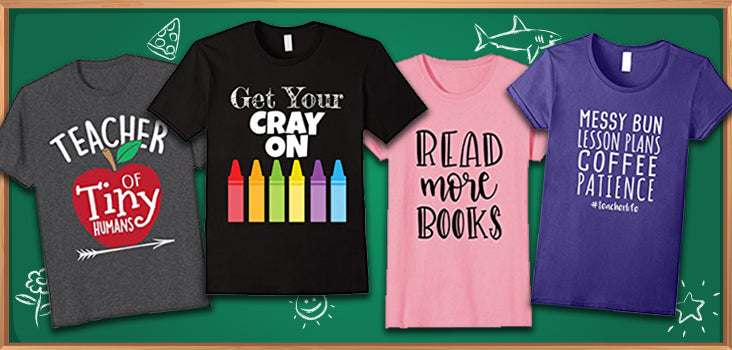 We hope you love the products we recommend! Just so you know, OtziShirts may collect a share of sales from the links on this page.
There are no amount of words that can truly sum up what it's like to have a good teacher.
A good teacher can stick with you for years! It could be 20 years down the line and you'll remember something they taught you when you were 8.
It's hard to be a teacher but it's even harder to be a good one. They deserve all the apples and the flowers they can possibly have.
It's good to show them how grateful you are to have been taught by them, because maybe 20 years later, you won't be able to find them.
Buy them one of these teacher t-shirts. Because they're worth it.
---
1. Teachers of Tiny Humans
Source: Amazon.com
As a teacher of tiny humans, you get a prize for expanding so many minds. All of the things that you teach your kids now will stick through with them until they're closer to our age. Pretty cool, huh? Yeah, you are!
Get the Teacher of Tiny Humans Shirt on Amazon.com
2. Harry Potter and the Teacher T-Shirt
Source: Amazon.com
It's a blessing in disguise that Hogwarts wasn't hiring. At least teaching Muggles means you won't get on the wrong side of Voldemort and you can go home at the end of the day. Hogwarts looks cold.
Get the I Teach Muggles Instead Shirt on Amazon.com
3. Teach, Love, and Inspire
Source:  Amazon.com
Three words you know, as a teacher, are different versions of the same thing. The mark you have as a teacher of little people is ground-breaking! This teacher t-shirt is a well-deserved piece of clothing that should belong to you.
Get the Teach Love Inspire Shirt on Amazon.com
4. Teacher Seuss
Source: Amazon.com
This teacher t-shirt is one that will be a hit with your students too. Not only do you teach Thing 1 and 2, you teach all the things, which is a double-barrel meaning of the highest quality. Dr. Seuss might even be one of the things you teach!
Get the Teacher of All Things Shirt on Amazon.com
5. Gotta Love Books
Source: Amazon.com
English teachers!, Do you know what the most wonderful time of the year is? THE SCHOOL BOOK FAIR. If you've taught your students right, they'll be just as excited as you are about it. Amp it up by wearing this teacher t-shirt, especially.
Get the Read More Books Shirt on Amazon.com
6. A Blessed Profession

Source: Amazon.com
As a teacher, one of the best feelings in the whole world is when one of your students passes their pop test with flying colors and seem to be enjoying the work too. You're a blessed teacher for sure, but your students are blessed too.
Get the Blessed Teacher Shirt on Amazon.com
7. Teachersaurus Rex
Source: Amazon.com
This teacher t-shirt is our favorite of the bunch and the kids will love it. Not only is it cute, funny, and printed on the best and softest kind of material, but it has dinosaurs on it. Dinosaurs. Why can't we teach classes in them?
Get the Teachersaurus Rex Shirt on Amazon.com
8. Don't Cross the Teacher
Source: Amazon.com
Teachers have limits! There is only so much we can put up with before our dinosaur shirt gets exchanged for this teacher t-shirt that says it exactly how it is. Nobody wants to get the Teacher Voice. Ever.
Get the Don't Make Me Use My Teacher Voice Shirt on Amazon.com
9. Teacher Life is Hard
Source: Amazon.com
Not unlike college life (just with an added dose of heavy responsibility), the teacher life is as predictable as it is rewarding. Messy buns and lesson plans are a weekend staple. At least with this teacher t-shirt you can make light of that.
Get the Messy Bun Lesson Plans Coffee Patience Shirt on Amazon.com
10.  Get Your Cray On!
Source: Amazon.com
It is pretty wild to be a teacher sometimes, kids say the darndest things to the point of being quoted for years on social media. (Is that or is that not one of the best parts?) This cute and funny kindergarten teacher t-shirt will crack them up!
Get the Get Your Cray On Shirt on Amazon.com
---
If you're a teacher or love someone who is, there are so many fabulous and funny teacher t-shirts out there, but if you're a student they're also perfect gifts for your favorite teachers.
Flowers die—teacher t-shirts are forever.