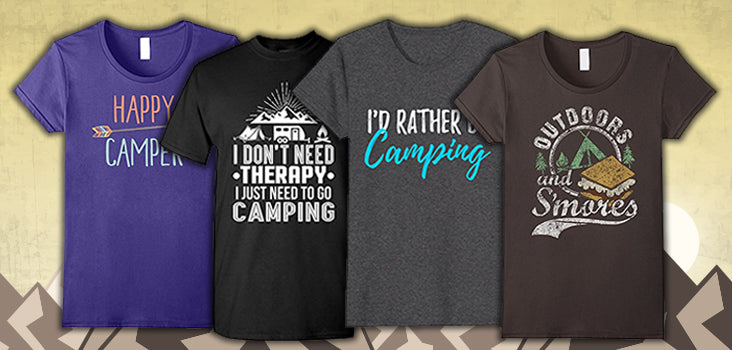 We hope you love the products we recommend! Just so you know, OtziShirts may collect a share of sales from the links on this page.
Summer is the time of year when most of us don't mind camping. It's only the hardcore camping enthusiasts who will camp during all months of the year, in lots of different climates.
They are truly the heroes of our families and our friend groups. The Bear Grylls types who can teach you how to fish faster than they can bake a mean potato (and man, can they do that fast!)
Campers are a rare breed that we need to honor. Where would the rest of us be while we camp if not for the people who have tips on sleeping in the middle of nowhere?
Exactly there: Nowhere.
All of this is why we thought that connoisseurs of the wilderness were due their time to shine. If you know someone with a birthday coming up who loves to camp? Take a look at these camping t-shirts.
---
1.  Camping T-Shirts are in Tents
Source: OtziShirts.com
The people who like to camp are intense, too. As mentioned, they know how to fish, how to hunt, how to make a fire without needing to use a lighter. And they can cook in the wild better than they can at home!
Get the Camping Is In Tents Shirt on OtziShirts.com
2.  For the Happiest Campers
Source: Amazon.com
Do you super love to go camping? Like, to the point where it makes you grin from ear-to-ear? Then you're the human being this camping t-shirt was made for. If your camping friends haven't got you this already, they suck!
Get the Happy Camper Shirt on Amazon.com
3.  Campfires are for Drinking
Source: OtziShirts.com
Gather around the campfire with your friends for 'tis the time to tell the tale of ghosts. A drink around the campfire is such a fun and great way to spend an evening and will be even better if you do it in this camping t-shirt.
Get the Let's Get Campfire Drunk Shirt on OtziShirts.com
4.  S'more Camping T-Shirts for Ya
Source: Amazon.com
S'mores are so delicious, but if they were made any time that wasn't while camping, they would totally lose their magic. Toasting s'mores on the fire is a way to teach your kids how to cook. (And what's delicious).
Get the Outdoors and S'mores Shirt on Amazon.com
5.  Rather Be Camping?

A lot of campers would rather be camping than doing just about anything. It's built into their hobbyist DNA and we can hardly blame them for it, even if we don't understand. We love them for it, not despite it.
Get the I'd Rather Be Camping Shirt on Amazon.com
6.  Say Yes to Camping

Source: Amazon.com
This camping t-shirt helps in explaining why camping enthusiasts love camping as much as they do: for the adventure, the stories, and the incredible journeys they can take. It's not just perfect for campers! It's for anyone who likes new adventures.
Get the Say Yes to New Adventures Shirt on Amazon.com
7.  Your Royal Majesty Queen of the Camper

Source: Amazon.com
Someone's gotta be boss, and for the most part, it's not gonna be the one doing most of the camp-building. This camping t-shirt is for the other half who you can't camp with, but also couldn't camp without.
Get the Queen of the Camper Shirt on Amazon.com
8.  Camping is the Best Therapy
Source: Amazon.com
Nothing like the wilderness to put all of your problems into perspective, is there? In the wild, there's no time to worry or stress about the little things when you've gotta get that tent up by nightfall.
Get the I Don't Need Therapy I Just Need Camping Shirt on Amazon.com
9.  A Real Camping Weekend
Source: Amazon.com
The best camping weekends could wind up being blockbuster comedy flicks like Road Trip and The Hangover, but with action too. Hence the camping part! All campers have had them, and they should totally be memorialized with matching camping t-shirts.
Get the Weekend Forecast Camping Shirt on Amazon.com
---
If you can't wait for summer to dive into the garage for your tent and inflatable mattresses, why wait until then?
Spring is literally right around the corner!
Slip on your favorite camping t-shirt, round up the boys, and go have an in-tents-ly good time!