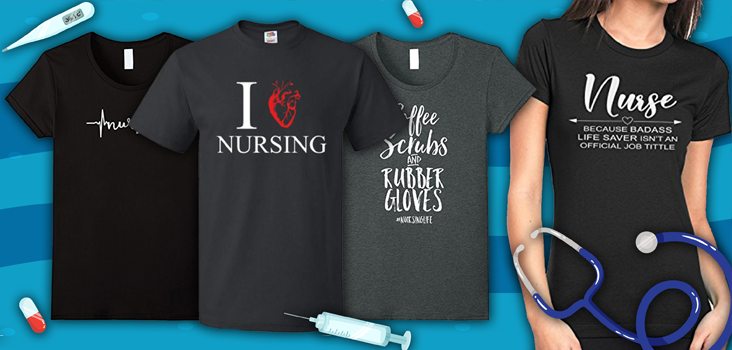 We hope you love the products we recommend! Just so you know, OtziShirts may collect a share of sales from the links on this page.
It doesn't matter which country you visit, nurses are extremely underpaid compared to doctors and, sometimes, even more overworked.
You have to be a strong, capable, passionate individual to be a good nurse. You've got to care about your patients and people as a whole, wanting to do all you can to help them recover.
Nurses do /everything/ around the hospital and practices. They clean up, they're there for comfort, they do diagnostic tests and vitals, and they are 100% heroes.
They basically deserve the world. Or some chocolates. Or if you can't get your hands on either of those things—pretty sure the world would be hard to get—why not get them a gift nobody else has?
Like one of these funny and awesome nurse shirts, perhaps?
---
1.  Nurse is Synonymous With Badass
Source: Amazon.com
Badass lifesaver isn't an official title, but it does go without saying when you're a nurse. This isn't to demean the doctors, they're legends and superheroes in their own right, but nurses are a whole other thing. Nurses put their patients above everyone.
Get the Bad Ass Nurse Shirt on Amazon.com
2.  A Gentle Reminder...
Source: OtziShirts.com
I bet there are a lot of people with this story. You're showing off to your friends one night and the next thing you know, you're hazily waking up with a nurse hovering over you. This nurse t-shirt will serve as a keen reminder for you and your nursing loved one.
Get the Nurse Description Shirt on OtziShirts.com
3.  Nurse Moms Have Pride Too
Source: Amazon.com
Cheer moms have shirts to show their pride, football moms have the same, and so, obviously, there needs to be a nurse shirt that shows it. As a nurse mom, your child may have saved the life of anyone around you. Wear this shirt with pride. Your kid is awesome.
Get the Proud Mom of Nurse Shirt on Amazon.com
4.  A Nurse Shirt With Heart
Source: Amazon.com
As a nurse, you have your finger on the pulse quite literally! You'll love this nurse t-shirt that mixes who you are with what you do. Your patient's heartbeat will literally be doing this because you saved them. How cool does that make you feel?
Get the Nurse Heartbeat Shirt on Amazon.com
5.  You're a Survivor Too 
You might save lives now, but you do it because you managed to survive yourself. Survive NURSING SCHOOL, that is. There are TV shows about medical interns, but where is the drama about nursing school? Oh boy, think of the stories they could use...
Get the Nursing School Survivor Shirt on Amazon.com
6.  If You're a Nurse Who Loves Your Job...
Source: OtziShirts.com
You clean up things you shouldn't clean up and are shouted at, you love your job that much. Your future patients and family members (anatomically-correct) heart nursing, too. They love you for being their nurse and the most excellent nurse in the whole world.
Get the I Heart Nursing Shirt on OtziShirts.com
7.  You Make Your Dad Proud, Too 
Source: Amazon.com
And, as the nurse t-shirt itself says, you should totally buy your dad this as a birthday/Father's day present. He'll love it because he will be proud of you for so many things but especially because you're a life-saver. (And have great taste in fashion...)
Get the Proud Dad of Nurse Shirt on Amazon.com
8.  Nurses Are Scary Awesome
Source: Amazon.com
Does your spouse ever wonder how you can be so damn good at everything? Well, it's because you're a nurse! You had to be to get through nursing school. They should respect you and wear this shirt the next time you guys go out to dinner. If you ever get the time...
Get the Nurse and Mom Shirt on Amazon.com
9.  A Shirt for Your Favorite School Nurse
Source: Amazon.com
How many times have you given a kid an ice pack or placebo to get them back to class? Being a school nurse is a super taxing job in different ways to your hospital nurse friends, and you all need a drink at the end of a shift. (With ice...)
Get the Best School Nurse Ever Shirt on Amazon.com
10.  A Nurse's Life

Source: Amazon.com
Coffee, Scrubs, rubber gloves, and hashtags. That's what makes the life of a nurse bearable. Without the first two, you'd find it hard to work your shifts at all. The third is just there to protect you from losing your sanity. #nursinglife indeed!
Get the Coffee Scrubs and Rubber Gloves Shirt on Amazon.com
---
Nursing is such a cool profession that you should get a million bucks just for being a nurse. We cannot make that happen (we wish we could!) but we can deliver fabulous nurse shirts to make sure everyone knows how awesome you or your loved one is. Keep being amazing, nurses.