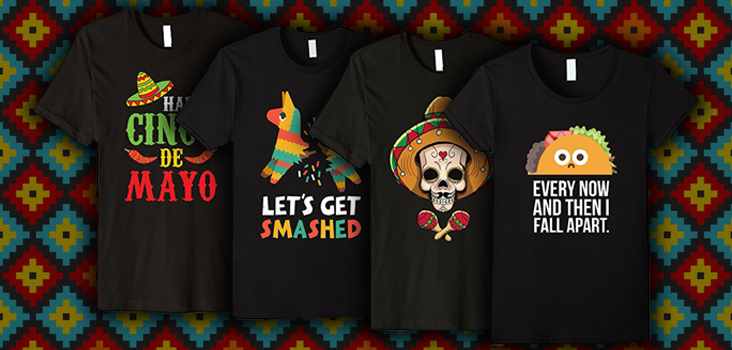 We hope you love the products we recommend! Just so you know, OtziShirts may collect a share of sales from the links on this page.
¡Hola! ¿Cómo estás? One of the most fun nights of the year is almost upon us and we are super ready, super early, to par-tay!
St. Paddy's Day was over way too quickly, and while waters stay blue in May, that doesn't mean we aren't set to have a freakin' awesome time.
Dust off your tortilla bowls and get googling for awesomesauce guacamole recipes on the 'net, 'cause nobody likes people who siesta during the Fiesta!
Here are some fun Cinco de Mayo shirts to get you in the mood in advance. Bring the tequila and we'll bring the shirts!
---
1.

Arriba! It's Drinko de Mayo!
Source: OtziShirts.com
Man do we love our Latinx friends, neighbors, and family. They always know how to bring a good time. Cinco de Mayo is the only holiday that rivals St. Paddy's day in terms of fun and this Cinco de Mayo shirt shows why!
Get the Drinko De Mayo Shirt on OtziShirts.com
2.

You'll Look Hot in This One
Stay hot and not chili in this cute Cinco de Mayo shirt that will look as amazing on men as it does on women. It's totally gender-neutral and will up the fun in your festivities by 120% (Best to do the math before the fiesta!)
Get the Happy Cinco de Mayo Shirt on Amazon.com
3. Let's Get Smashed!
Source: Amazon.com
This piñata knows what it's like to make the most out of Cinco de Mayo by having a good time. There is nothing to fear on Cinco de Mayo but fear itself! At oTZI Shirts, we wish you the drunkest, most fun fiesta ever (until next year...)
Get the Let's Get Smashed Shirt on Amazon.com
4.

We Need to Taco Bout Things
Source: Amazon.com
What is more accurate for Sexto de Mayo than a sloth in a sombrero, hanging onto a taco? He might as well have tequila breath! Maybe he does, but he had the most fun ever in his Cinco de Mayo shirt that it doesn't matter.
Get the Sloth Taco Shirt on Amazon.com
5.

A Pawsome Cinco de Mayo Shirt
Avo look at a Cinco de Mayo shirt cat (and avocado) loves are basically gonna trip over themselves for. Guacamole and avocado ale are both awesome things that have come from our quick-to-ripen pals (as well as healthy fats - yay!)
Get the Avogato Shirt on Amazon.com
6.

I Really Need Tacos Tonight
Mexican food is so good. It's why it's so popular, like, everywhere. It's also super messy, but the mess is all part of the deliciousness. It is totally worth getting salsa all over your favorite Cinco de Mayo shirt.
Get the Funny Taco Shirt Amazon.com
7.

Get Your Maracas Ready
Source: Amazon.com
Sugar skulls, sombreros, and maracas? Sounds like the start of Cinco de Mayo to me, we're just missing the tequila and batch of Cinco de Mayo shirts that will really get this fiesta going. OH, and the piñata...
Get the Sugar Skull Shirt on Amazon.com
8. Stay Up 'til Tequila Sunrise

Three Amigos, this camisa de Cinco de Mayo was made for the girls who can always be counted on to make the Fiesta come to life. They bring the food, the games, the fun, and sometimes, even the booze.
Get the Three Amigos Shirt on Amazon.com
9. Politics or Pollo-tics

Source: Otzishirts.com
I know which I'd prefer, but this funny Cinco de Mayo shirt is pretty much the one exception to this. It's just too good not to enjoy.
Get the Bad Hombre Shirt on Otzishirts.com
---
Whether you're throwing your own fiesta or taking your snacks to someone else's, felicitations to you for being a great sport (even if you're the one having a good time because of it).
Whichever Cinco de Mayo shirt you wear, the fun will be there.