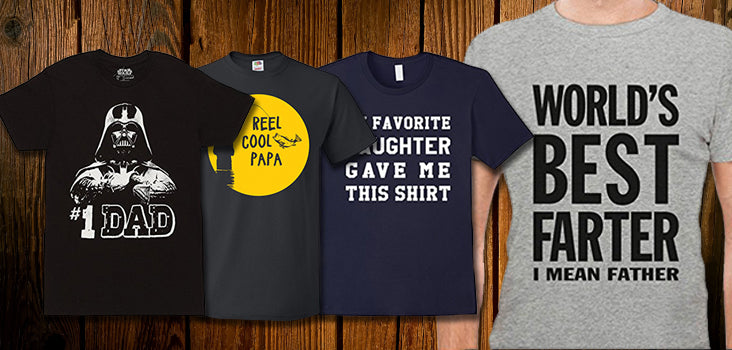 We hope you love the products we recommend! Just so you know, OtziShirts may collect a share of sales from the links on this page.
Father's Day is approaching faster than summer, and at the rate, this year is going by, it will be next Father's Day before we even know it!
Dads can be the best people in our lives. They are there for us when we're sad, there to be proud of us, and there from the beginning to teach us how to be a good, strong, but kind person.
I love Father's Day because it gives me a chance to celebrate the older men in my family like my grandpa as well as my dad, and I'm not alone!
Once a dad, always a dad. Once a grandpa? Double the dad! Here are some Father's Day shirts for you and for yours.
---
1.

For the Snoring Pop
Source: OtziShirts.com
Did your dad's snores keep you up as a kid, even if your room was at the other end of the hall? I don't know what it is about dads but they snore loudly! Why not remind them with this Father's Day shirt?
Get the I Don't Snore I Dream I'm a Motorcycle Shirt on OtziShirts.com
2.

Not Sure Which Father's Day Shirt to Choose?
This Father's Day shirt is perfect for the daughter who literally has bought all the fishing shirts in the world for him already. Your poppa will love it and the best part is, it mentions you and not your sister!
Get the My Favorite Daughter Gave Me This Shirt on Amazon.com
3. Your Dad Will Be Angling for This
Source: OtziShirts.com
But, let's face it, isn't he always on the lake with his bait and tackle? Fishing and dads go together like good wine and moms, so if yours enjoys the reel world, there is no better shirt out there for him.
Get the Reel Cool Papa Shirt on OtziShirts.com
4.

My Father the Hero
Source: OtziShirts.com
Who said it was only women who could multitask? Your dad sure does pretty well with it. Your pops is a dad, a grandpa, a hero, and the coolest person in the world, is he not? Let him know that on Father's Day!
Get the Dad Grandpa Hero Shirt on OtziShirts.com
5.

What's That Smell? Oh, it's Dad
Pee-yew! What is it with dads and breaking wind? It's like part of the dad job description to find farts funny. Surprise and delight your pa with this hilarious farter-- uh, I mean Father's Day shirt.
Get the World's Best Farter I Mean Father Shirt on Amazon.com
6.

Team Up With Your Sister!
Source: OtziShirts.com
You and your sis (or sisters) have driven your pops crazy over the years, but you love him so much. Clearly, he deserves a Father's Day shirt that pays tribute to how much fear you guys instill. Yay, family!
Get the You Can't Scare Me I Have Daughters Shirt on OtziShirts.com
7.

Superman WHO?
Source: OtziShirts.com
The world doesn't need superheroes when it has your dad, the best of them all. And he doesn't have any powers! He is, as himself, a man, a myth, and a legend. He'll get a kick out of wearing this Father's Day shirt around his friends.
Get the Papa The Man The Myth The Legend Shirt on OtziShirts.com
8. Your Pop Walks on the Wild Side

Source: OtziShirts.com
Dad is the reason you are the cool, wild, and kinda crazy kid that you are. It's about time he got some of the credit, don't you think? Good thing for you Father's Day exists for that reason!
Get the Dad of The Wild One Shirt on OtziShirts.com
9. Luke, My Father is Number One

Do you have a geeky dad or one who loves Star Wars? Maybe one of your traditions is to watch the movies together. If so, he probably likes the bad guy, Darth Vader, meaning this Star Wars Father's Day shirt is made for him.
Get the #1 Dad Shirt on Amazon.com
---
So celebrate your dad's day with him and take a bunch of pictures of him in his Father's Day shirt so he knows, the next time you need him to pick you up at the airport, how much you love him.