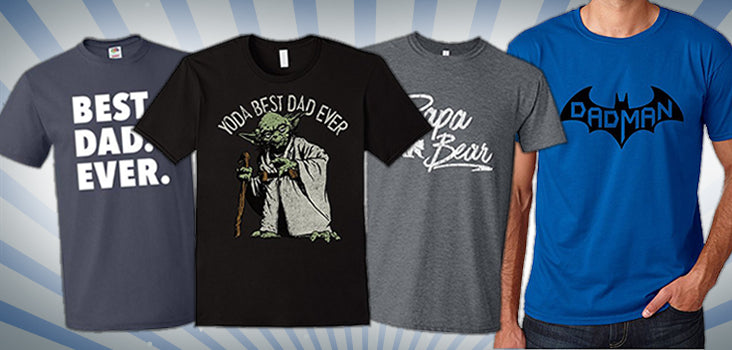 We hope you love the products we recommend! Just so you know, OtziShirts may collect a share of sales from the links on this page.
There are so many dads out there who pretend like they don't care for gifts on their birthday or Christmas.
Dads will always tell you not to stress over what you're gonna get them, or they'll say that a new golf ball or CD will be enough.
They sure could be but what's always so great about gifting t-shirts is that they are value for money and are way more personal than that new shaver or plain white socks.
Dad shirts need to take on a new meaning, and so we propose in starting right here. Away with button-ups and polos and on with with slogans your pops will love.
---
1. 

Is Your Dad a Hero?
Source: OtziShirts.com
If he is, don't hesitate in getting him a dad shirt that will show the world exactly what he is to you and your babies. Dads are always so cool, knowledgeable and won't force you to do your chores. Sounds like a hero to us!
Get the Dad Grandpa Hero Shirt on OtziShirts.com
2. 

Na na na na na, Dadman!
Source: Amazon.com
The caped crusader who helped you with your homework and taught you how to pitch is a legend. He is Dadman. This dad shirt is for the geeky dad who bought you a PlayStation because he wanted to play video games.
Get Dadman Shirt on Amazon.com
3. 

Except He Totally Snores
Source: OtziShirts.com
Those rumblings of your dad's snores that echo throughout the house will stay with you even if you move to the other side of the country. (Think about your mom who can't escape!) The least you can do is help them come up with an excuse.
Get the I Don't Snore I Dream I'm a Motorcycle Shirt on OtziShirts.com
4. 

Who's the Man?
Source: OtziShirts.com
Your dad is the man! Your dad is also a myth to your friends and a legend to your partner (probably) and because he's the best dad on the planet, he needs a dad shirt that presents him as such!
Get the Dad The Man The Myth The Legend Shirt on OtziShirts.com
5. 

This Dad Shirt is Beary Good

Source: Amazon.com
Like bears themselves, your pops is protective and always has your back, right? He ought to consider changing his actual name to papa bear because he totally fits that description.
Get the Papa Bear Shirt on Amazon.com
6. For the Best Dad Ever

Source: OtziShirts.com
This dad shirt is perfect for new dads, it will make them feel feelings while you feel contractions. Talk about inequality. Make no mistake about it, though, he will be the best dad ever. (After yours).
Get the Best Dad Ever Shirt on OtziShirts.com
7. 

Best Dad in the Galaxy!

Source: Amazon.com
If this shirt could talk it would say, "I am your father (shirt)." Lucky for us, it doesn't because it's a t-shirt and that would be creepy. Dads are usually fans of Star Wars, which makes this dad shirt simply perfect.
Get the Best Dad In The Galaxy Shirt on Amazon.com
8. 

Your Dad is Reely Cool
Source: OtziShirts.com
Fishing dads should get ready for the gift that is this awesome dad shirt. If you're angling to win the favorite child competition, look no further than using this as bait. (Dad jokes will also work in your favor).
Get the Reel Cool Dad Shirt on OtziShirts.com
9. 

Geekiest Dad Ever, You Are
Source: Amazon.com
Citizens of Alderaan and other planets in Star Wars that have names I don't know, there is a new Jedi in town and his name is dad. Geeky dads will love this dad shirt that melds geek chic with dad jokes to make the best gift he's ever had!
Get the Yoda Best Dad Ever Shirt on Amazon.com
---
Be it Father's Day or his birthday, Christmas or a regular Friday, if you love your dad and think he's the best dad in the world, getting him one of these dad shirts will make him super happy.
Our Dads aren't gonna be around forever, we need to spoil them while we can.